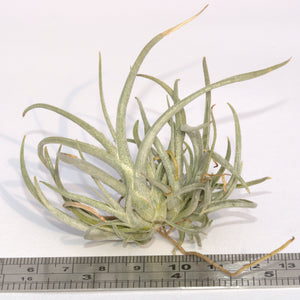 A wonderful little hybrid between two species, albertiana and crocata.
These are nice clumps of plants with a flowering size rosette. The flowers are amazing, large and bright Orange! The flowers fade from orange to yellow. So you can have different shades of flowers at the same time. The flowers last a few days like T. albertiana's and are lightly scented like the other parent T. crocata.
Grow in medium to bright light and water regularly.
This is a tough hybrid that is floriferous and very easy to grow.
Top quality plants,excellent service.
Tillandsia albertiana x crocata
A great little plant which arrived with a flower spike. This opened a couple of weeks later into a beautiful flower so a real bonus. Looking forward to many more in the future. Very happy with my purchase.
Delighted!
My tillandsia Albertiana x crocata is in the form of a lovely clump - so sturdy and healthy - and is a group of several plants at different stages of development. I shall enjoy so much watching all these plants grow as a clump and I'm so excited to eventually see the flowers which sound absolutely stunning!
Tillandsia albertiana x crocata
I received a really nice clump with a flower spike
Nice compact cluster.
T. albertiana X crocata really shows its parentage. It combines the strong stems of albertiana and its cluster-like growth pattern, but much shorter, and is silvery grey with the feint suggestion of the soft down associated with crocata. I look forward to seeing the flowers in due course. Well packed and labelled from Andy as usual.