Welcome to Andy's Air Plants

Award winning Bromeliads and Air Plants
RHS Flower Show Cardiff 2019

Best in show
Welcome to Andy's Air Plants
Award winning Bromeliads and Air Plants
Shop Now
RHS Flower Show Cardiff 2019
Best in show
Welcome to Andy's award winning air plants the home of tillandsia and other bromeliads for sale in the UK.
At Andy's Air Plants you can find information on the wonderful world of Bromeliads and shop my beautiful range of Air Plants (Tillandsia) for sale. My name is Andrew Gavin and I am a plant enthusiast, amateur botanist and plant collector in Penzance, Cornwall UK. I have studied and worked in Horticulture for 20 years and I am R.H.S qualified. I work as a gardener and have been employed by owners of various large gardens and Estates, public and private, working with various plant collections. Read more about me here…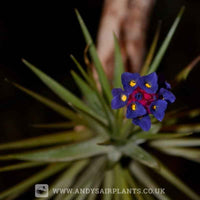 What is an Air Plant?
Air plant is a common name for the genus Tillandsia in the Bromeliad family native to the forests, mountains and deserts of Central and South America.
Air plants are named so because of their ability to take all their nutrients from moisture in the air unlike most other plants which need to draw up nutrients through the roots.
To do this air plants absorb nutrients from any available moisture in the air such as rain, mist/fog or evaporating dew and from here they draw their nutrient source. They are also known as air plants because of their ability to fill a niche and grow as epiphytes in tree canopies, or on other plants such as scrub bushes and cacti. Some species can also be found growing on rocks and cliffs as (saxicoles/liphophytes), some have colonised telegraph wires and even houses and roofs. Others grow terrestrially in environments such as coastal deserts, stabilising sand dunes.
Read more
Mounting and Displaying your Air Plants
After you have received your plants you can start to think about mounting and displaying your air plants, the possibilities are endless.
Tillandsia's have a very superficial root system that is only used for anchorage, this means that you have much flexibility in how you choose to display or grow your plants. A happy Tillandsia will root on to almost anything, but don't worry if your plant does not root much, many plants grow to full size, flower and clump without hardly ever putting out roots.
Read more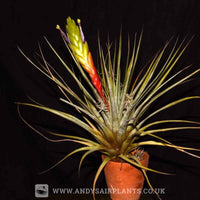 What my Customers are Saying
I'm always impressed by the quality of the plants Andy sends, they're clearly well grown and all carefully packed and labelled.  I couldn't be happier with what I've received, 10/10!

Jenn from Edinburgh
I found using Andy's Air Plants has given me the edge when it comes to designing floral art arrangements. Andy's Air Plants are perfect for competition standards,giving me the results I'm after.

Becks in Cornwall
I would definitely recommend buying from Andy's Air Plants Thank you so much for my beautiful plants they look fantastic in my conservatory and arrived perfect and very quick Will definitely be buying more.

Aileen from Essex
Andrew's delivery really made my day. Nice, healthy plants, great quality, and friendly service. Cheers Andy.

Johan from Holland