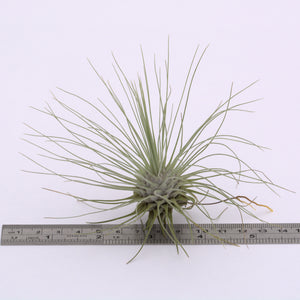 Tillandsia argentea is the most wonderful little air plant. Its leaves are fine and silver and arranged like a sea urchin. It is also very easy to grow and clumps in just a few seasons. It makes nice long flower spikes with bright red bracts and purple flowers with bright yellow pollen. Stunning and delicate.
This species is a personal favorite. It enjoys bright to full sun and has to have a regiular misting and good air-movement so as not to stay wet constantly.
I have singles and multi headed clumps available.
Tillandsia Argentea
This beautiful air plant arrived carefully wrapped and really healthy. Lovely air plant and a perfect addition to my collection. I'll certainly be buying my next air plant from Andy, I can't highly recommend his plants highly enough.
Great service
I ordered 2 airplants I've been thinking about getting for a long time and decided to finally order them, they arrived extremely healthy and with a freebie included, I love them all, they're so gorgeous. Comes with care instructions for if you're a beginner too
Bought for my wife
Superb quality plants, came carefully wrapped as well, defo recommend Andy's for their quality of plants
Bought for my wife
she thinks the plants is amazing, great quality and even came with a little extra plant which she is over joyed by
superb quality plants
I bought four plants as a gift for my daughter any was delighted with the quality of the plants, the speed and packaging of them, and the information that arrived in the package. I would certainly recommend Andy's Air Plants.