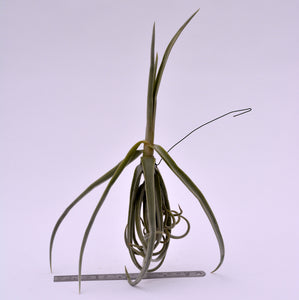 Tillandsia duratii is an incredible species from Bolivia, Paraguay, Argentina and Southern Brazil.
It has long arching leaves that curl back to help it support itself in tress and scrub thickets. It can vary in size and some plants or clumps can become very large. The flower spike is very long and has many lovely lilac to dark purple, heavily scented flowers.
It is easy to grow in high light levels with regular light misting and good air-movement.
These are fairly small plants, about 6 to 8 inches tall.
Great plants.
This is the forth time i have ordered from Andy, wonderful plant and thank you for the free one can't wait for it to flower as it has two flower spikes.
Always reliable
Very pleased with this purchase: as usual, the plant arrived very healthy and quite a bit larger than I expected. I realise that it might take a good while before it flowers, but I feel pleased to finally have one of these in my collection.
Lovely plants!
Thank you for all my lovely plants, absolutely loving this wonderful Duratii specimen!
A must have!
A stunning plant, it's form is amazing and the quality/health was perfect as always from Andy, these can eventually grow massive, a very inspiring plant!
Cool-looking plant
Similar to my mature T. straminea but with an attractive 'skirt' of curly whorls. Looking forward to some scented flowers in due course.