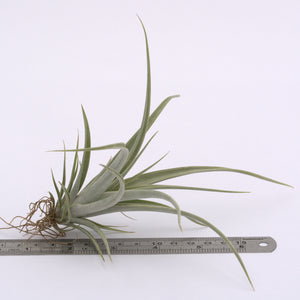 A very rarely offered species. From Mexico where it endures a hot, sunny and dry enviroment. It is rare in the wild and in cultivation.
Tillandsia elizabethae has nice soft, silver fairly stiff leaves. It produces a nice long pink flower spike with purple tubular flowers.
I have a few beautiful, full size plants that are in bud/with flower spike.
Amazing quality plants as always
Andy always goes the extra mile to get the best grown and healthy plants that are delivered in a perfect package and with a caring hands
Always use Andy's Airplants ….
Lovely bonny plants that thrive and grow for years and years - always supplied in bud in peak condition. Thank you Andy
So glad you sent instructions on how to care for my plants, they are looking good.
Thanks
Fantastic plant and great service!
One of my absolute favourite Tilly species and supplied in wonderful condition. Andy provides kind and prompt service that is to be admired. I will be back for many many more!