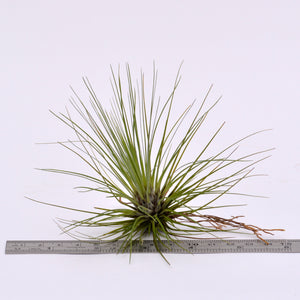 Tillandsia filifolia is a Mesic (moderate humidity) growing species from Central Mexico and Costa Rica.
It has a lovely round pincushion shape with fine, thread like green leaves. The flower spike is long and branched and produces many small, purple flowers.
It is very easy to grow in low to medium light levels with regular misting and good air-movement.
I have lovely, good size plants available and a few extra large plants with flower spikes on them.
Lovely vibrant plants
Service was great order was fulfilled quickly and packaged well. Will definitely use this seller again
perfect condition
Andys air plants are so fresh and full of life, one even had flowers. I am very happy with my purchase and won't be shopping anywhere else !
T. filifolia
Great sized and healthy plant as always from Andy