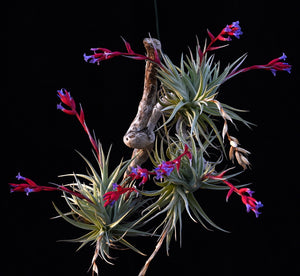 This is the true leonamiana, much more uncommon than the plant often sold under this name T. recurvifolia var subsecundifolia. Ive been growing this for several years and now i have bulked it up enough to offer some for sale. The naming of this species has been debated much, as info on provenance, hybridization and miss labeling has been compounded. 
Tillandsia leonamiana is however a fantastic and easy to grow plant. 
Lovely airplant
The fleshy leaves of this air plant are a lovely light/lime green and, as always from Andy, it is a substantial and beautifully grown specimen.
My Air Plants
My plants arrived in great condition and I love them. I have mounted them on logs with moss, and I am thrilled to say that my Ionantha huamelula has 2 flowers on it, they are exquisite. I can't wait to see if the others do as well. Thanks Andy