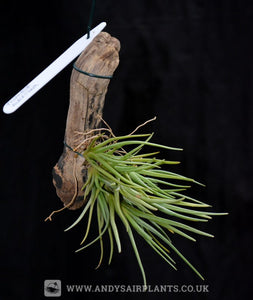 Tillandsia albertiana is a wonderful and easy species to grow.
It has a limited distribution in North West Argentina on rocks faces in damp areas along mountain streams shaded from full sun.
This species has a lovely shape with distichous or mirrored leaf pattern, similar to species like myosura or caliginosa. The most beautiful thing about albertiana is its very large bright Red flowers that contrast perfectly with the lush mid green foliage.
It is one of the hardier (cold tolerant) species. It loves a damp but airy environment away from full mid day sun.
A lovely clump of T. albertiana mounted on a piece of drift wood.
Love It.
Thank you so much Andy for the wonderful air plant.This is the third time i have ordered from Andy and as always i can not fault anything. Will buy again.
Love the plants
Great service and products. The plants arrived quickly and well packaged. I love the plants and they look great hanging in my bathroom. I will probably buy some more for my other rooms! Thank you Andy 😊👍
Absolutely incredible service! Personal and fabulous air plants!! 🌟🌟🌟🌟🌟❤️🥰
What a service!!! I ordered back in October .....knowing I had to hide this for the husband as it was a gift for Xmas, he kindly saw my message and hung onto it till nearer the time! Just a few days before the big day it arrived!!! 😍🥰🎁Absolutely perfect brilliant! What a service, far and few of these excellent personal companies left ! along with exceptional plants 🪴 🌱 🎄❤️🎁⭐️⭐️⭐️⭐️⭐️
Million thanks Andy! Merry Christmas! The husband loved it!!
My Indoor Garden
Really pleased with both plants. Delivered efficiently. Well packaged. A little smaller than I thought. Still doing well and thinking of buying more.
Birthday present
Amazing service.I rang Andy for advice as had never purchased an air plant before. He couldnt have been more helpful.Arrived promptly and in very good packaging. Air plant was in tip top condition. I only hope my daughter doesn't kill it! Will def be using Andy again.I know my daughter in law would love one and so would I .