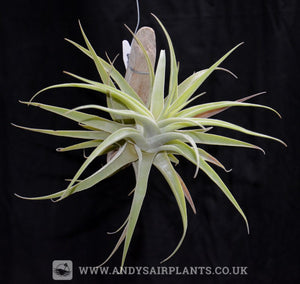 Tillandsia cacticola is well known in cultivation and a real favorite among collectors. It grows in its native habitat in Peru on rock faces and Cacti hence the name cacticola. This species has really nice soft velvety, trichome dense foliage, a lovely silvery green in color. But the inflorescence is the real show stopper, it has a very long lived flower spike of the most beautiful lilac and pink shades and produces creamy white flowers.
It is easy to grow, i have a plant that has been in my collection for 10 years.
Here is a really lovely specimen that will soon start flowering, mounted on drift wood.
T. cactifolia and beginners collection of 4 others
Arrived safely, well packed and in perfect condition. These were for a gift and I'll be in touch soon to purchase some Tillandias for myself! Thank you.
Cacticola on driftwood
Super healthy plant,love the spanish moss that came with it,thanks you Andy.