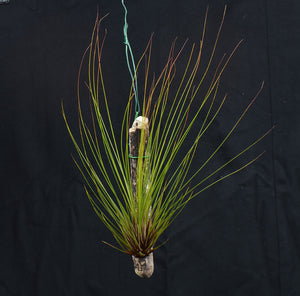 Tillandsia juncifolia is a lovely green grass like leaved species. It is very similar to tillandsia juncea only it has green leaves instead of grey.
Tillandsia juncifolia is very easy to grow in mid to high light levels, In higher light levels it can show a red color in the tips of the leaves.
This species add a wonderful contrast to other species because of its long thin leaves and upright habit.
Here is a lovely flowering sized specimen that is mounted on drift wood.
Wonderful looking plant would recommend this one
Wonderful looking air plant I would recommend this one to anybody who loves air plants . After a friendly phone call to Andy he added some fine moss for me as I asked him to mount it .well am so pleased I'll be getting more thanks so much andy
Air plants
Andy's air plants arrived very well packaged as usual and were in excellent condition lovely plants.
Really pleased with these air plants
Andy's air plants arrived swiftly, were well packaged and look great. Really pleased and would recomment.
New to air plants - great information and care instructions. Lovely healthy plants! Great service.
Nice little plant. Very well packaged and quick delivery.