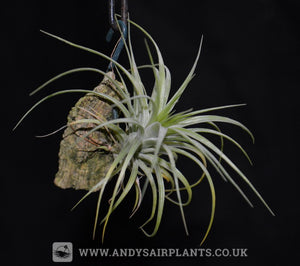 Tillandsia stricta is a common species in Eastern South America, from Venezuela to Northern Argentina where it grows as an epiphyte in dry to mesic (evenly moist) conditions. It has green, often grey/purple mottled leaves and a lovely flower spike with bright pink bracts and light purple flowers. It is popular amongst beginners for its ease of cultivation, and attractive flower spikes, it produces many pups (off-sets) and quickly grows in to an attractive clump.
This species like medium to high light levels and regular misting with good air-movement.
Here is a lovely near flowering size plant mounted and rooted onto a small piece of drift wood. It will be either T. stricta soft or hard leaf varieties or stricta var rubra depending on stock.

Tillandsia Stricta Air Plant
Excellent plant, has a flower beginning already.
Very good service, so pleased with my purchase.
Will definitely be buying again from Andy's Air Plants
Lovely plant
Beautiful plant I will be buying more
Excellent
Received very quickly and lovely strong healthy plant. Thank you