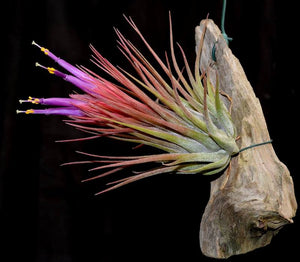 Tillandsia x kolbii also known as T. scaposa or T. ionantha v. scaposa The cross between the genus and species (Tillandsia 'x' kolbii) means that this plant is of interspecific hybrid origin. (A hybrid between two species of Tillandsia)
Tillandsia x kolbii is a wonderful and easy to grow species very similar to the ionantha's, the difference between this species and the ionanthas is that the flower spike protrudes from the rosette. Tillandsia x kolbii does not like the full, full sun that ionantha's thrive so well in, and prefers a slightly more humid condition.
I have lovely flowering size plants on offer, mounted on drift wood.

Beautiful
A really beautiful gift for a lovely friend . They were so pleased and just loved it.
Andy was thoughtful and communicated with me about this gift. Amazing service , amazing plant and I will be going back this year for more gifts xxx
Perfectly set pair
This pairing is just perfect. The plants arrived very quickly and in beautiful condition with care guide notes. I am looking forward to watching them (I hope !) flourish in their new home. Highly Recommend
Super looking plant
Super looking plant and Andy added moss with it when I asked him to so pleased with the air plants I had bought really appreciate the effort thanks so much andy
AMAZING
Items packaged well, information sheet on how to care for your plant very good. Purchased plant for my hairdresser for her shop window, she loved it. Thank You
Lovely plant.
Good service and plant care advice.