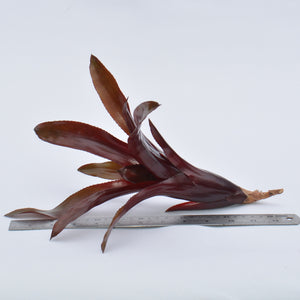 Aechmea 'Fosters Favorite' is a wonderful hybrid by Mulford Foster. Interestingly this is the first ever Bromeliad hybrid to be patented in 15/11/1949. It is a hybrid between A. racinae and A. victoriana var discolor.
Aechmea 'Fosters Favorite' has wonderful dark red leaves and a pendulous flower spike with bright red/orange bracts and blue flowers. It does not like too much sun.
Here is one large size pup.
Aechmea 'Fosters Favorite'
Fantastic quality plant, great communications and advice. A+
Aechmea 'Fosters Favorite'
Good size plant with a beautiful deep burgundy colour. Another winner!
Dave
Aechmea fosters favorite what a plant looks so good thank you yours dave
Great quality plant, larger than I expected and in perfect condition. Would definitely recommend.
In flower
My plant is in full flower at the end of December in the UK!, very happy plant!........almost as happy as me!