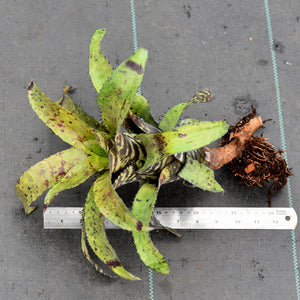 Aechmea orlandiana cv. 'Hayward' registered in 1961, is a very large and colorful form of orlandiana. This plant will grow up to 24" tall making it the largest of the orlandiana Cultivars. It has a great shape and very dark leaf bases and banding with red and purple flashes. More colourful in bright light and at anthesis (flowering).  It is said that these A. orlandiana's grow best when mounted. But they are fine in pots with a very loose mix.
These are nice large pups with lots of roots, from my own collection.
Great plant!!
Arrived today, great plant, big plant, well packaged, struck by the black barring on the undersides of the leaves, more pronounced than 'Bert'. Looking forward to growing it on. Thanks.