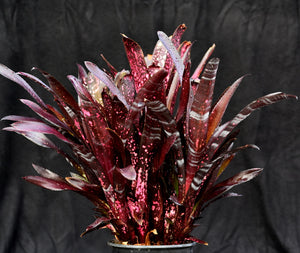 Billbergia 'Beadleman' is a spectacular hybrid of B. 'Domingos Martin' and B. 'Hellfire' created by the god father of Billbergia's, Don Beadle. 
You will receive one full size pup/offset.
Billbergia's are tank type Bromeliads very similar to Neoregelia's only the leaves are arranged in a tighter whorl to form a tube, the leaves flaring out variably between species and hybrids, at the top of this tube. This tube being an adaptation by the plant to store more water in extreme climates. The markings and colors of hybrid and cultivar Billbergia's can be extreme and very colorful. Cultivation is the same as for other Epiphytic, 'Tank type' Bromeliads such as Neoregelia's. With a good free draining, peat based compost, and bright light to full sun. Regular topping up of tanks and occasional flushing out/change of water in tanks.
B. Beadleman
Great healthy looking plant, arrived in good time, good size, would recommend to anyone looking to try billbergia species, quite a dark looking plant, light white band's on the back of leaves, make it look interesting, and can't wait to grow it on and colour up when we get a bit more sun in the summer. Thank you.
Billbergia Beadleman
Having a good clump of Billbergia 'Hallelujah' was a bit wary of buying a 'similar' Brom but bit the bullet. Good job I did too! Much more red in the leaves and silver banding on the outers. As usual with Andy, lovely plant well packed, and delivered quickly