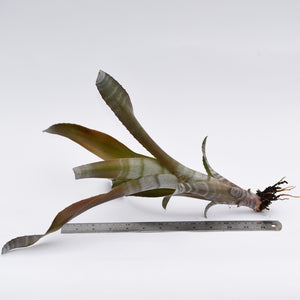 Billbergia 'Charles Webb' is a cultivar of a hybrid with B. vitata and B. pyramidalis. It is a large stocky growing plant with wide leaves, green with heavy, silver trichome, banding. The whole plant turning a wonderful slate purple in bright light. The flower spike is vitata type with rose red bracts and purple flowers. This plant has been around in cultivation since the 50's and is quite well known among growers. 
A striking plant, easy to grow in a pot with peat, bark, grit mix and full or half sun.
One large offset/pup sent bare root.
Billbergia 'Charles Webb'
Another great brom from Andy!