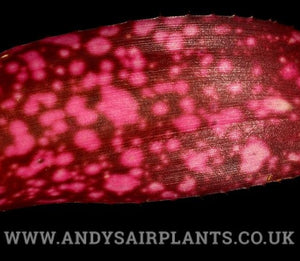 Billbergia 'Cherry Bomb' is a hybrid of B. 'Pink Champagne' and B. 'Afterglow'. The plants has nice vase shaped flutes that in strong light will be a deep cherry red with cream and pink spots. 
Billbergia's are tank type Bromeliads very similar to Neoregelia's only the leaves are arranged in a tighter whorl to form a tube, the leaves flaring out variably between species and hybrids, at the top of this tube. This tube being an adaptation by the plant to store more water in extreme climates. The markings and colors of hybrid and cultivar Billbergia's can be extreme and very colorful. Cultivation is the same as for other Epiphytic, 'Tank type' Bromeliads such as Neoregelia's. With a good free draining, peat based compost, and bright light to full sun. Regular topping up of tanks and occasional flushing out/change of water in tanks.
Billbergi Cherry Bomb
Once again the plant arrived quickly and well packaged. It's a lovely specimen and has gone straight into a tree fern log, looks really spectacular. Andy strikes again!!!