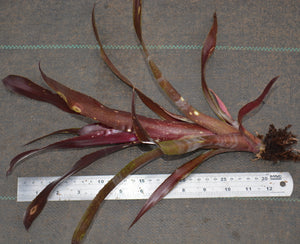 This is a fantastic Billbergia hybrid created by the famous Billbergia hybridizer Don Beadle. When it first came on the market plants of this sold for around $100. Billbergia 'Hallelujah' is a cross between B. 'Domingos Martins' x 'Ed McWilliams'). 
Plants are sent bare rooted. Pot's, hangers and compost are available separately.
Billbergia 'Hallelujah'
Stunning large plant, fantastic quality and quick dispatch. A+
Starstruck! Literally!
Excellent service.
Fantastic plants! They look like the night sky on steroids!
Brilliant advice!
I'll be back!
Hallelujah indeed!
Had several of these today, and they are magnificent! much larger than expected, with incredibly vivid markings and already rooted. Fantastic plants really fast, and well packed. Thanks. Makes me want even more!
Billbergia Hallelujah
Lovely large plant! Andy strikes again!!
Hallelujah
Excellent plant very well packaged.