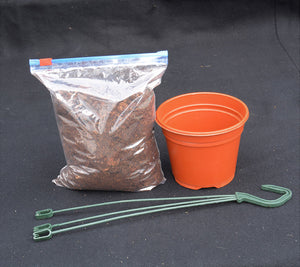 This product is NOT needed for Airplants! It is only for Neo's Billbergia etc/Tank type Bromeliads.
Here is a bag of my own mix of Bromeliad compost, suitable for Bromeliads such as Neoregelia, Billbergia and Aechmea.
Also included is 1 pot with a hanger. The hanger also doubles as support until your plant or 'pup' roots into the compost and can support itself.
Larger amounts of compost or extra pots and hangers can be arranged. Please ask.
Generous amount and perfect for growing bromeliads.
Compost, Pot and Hanger
Quite happy with this purchase. The clips for the pot clip on quite easily on the pot. Hopefully, the air plant will be a success and enjoy its new home.
Just what I needed for my new plant. I'm very happy with everything I received.
Good, well packed pot, hanger and compost.
Quick delivery. Useful items. My plant has settled well into pot.
Great service
Andy got in touch after I'd placed the order as he was checking that I wanted something that I'd put on there but wasn't needed with the product I'd bought. He offered to refund or replace with an extra plant. Dad was thrilled with the extra plant and arrived quickly and all plants very healthy and doing great.