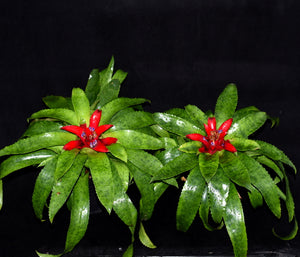 Nidularium fulgens is a beautiful Bromeliad from the Atlantic forests of Brazil where it grows as an epiphyte. It has long green leaves that are glossy and spotted with darker green. As it matures it gets quite broad, seems to darken a little, a very attractive plant. But then, as an addition, it develops a bright red center of bracts around the 'little nest' (where the name Nidularium comes from) of blueish flowers.
Care is the same as for the Neoregelia's. This is not a very light demanding plant.
For sale are pups not mature plants.