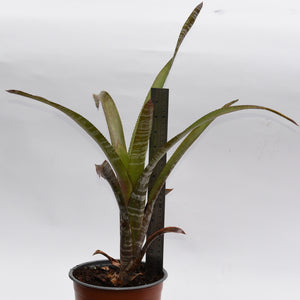 I first saw Aechmea dealbata on one of my many visits to Kew Gardens in London around 20 years ago. I was really taken by this wonderful plant. I was mesmerized by its bloom spike that was densely trichome covered red bracts and purple flowers that fade to pink. It was growing on a large piece of cork hanging in the Waterlily house. 15 years later i managed to acquire one of these for my collection, and here for sale is the first offset.  
Aechmea dealbata is native to Rio De Janiero in Southern Brazil where it grows as an epiphyte in woodlands. In cultivation it can be grown mounted or in a pot or even on the ground as long as it is given good drainage. This is a cool growing species it may even be hardy to 0c. 
For sale is a large, mature plant. It will be sent bare root.
Great plant
Beautiful large plant just as described very healthy plant,delivery and packaging were excellent and so quick.very pleased with plants and service as always