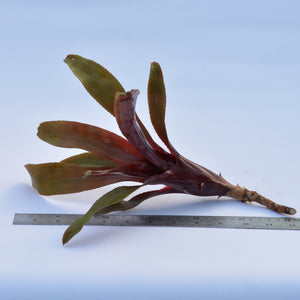 Aechmea victoriana v. discolor is native to the Atlantic Forest Biome in South in South Eastern Brazil. It was described and published by the famous Mulford B. Foster in 1955.

It is a fantastic and easy to grow Bromeliad with glossy red undersides to the leaves, green and red above. It has a red flower spike with bright red bracts and purple flowers.
Aechmea victoriana v. discolor prefers to be out of direct sun and can grow in a more humid environment making it suitable for terrariums. It can be mounted or grown in a Bromeliad mix.