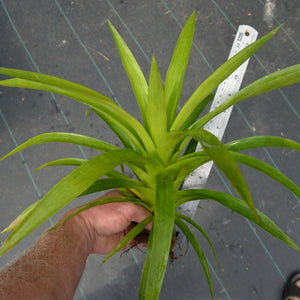 A wonderful epiphytic Bromeliad with an amazing inflorescence. Guzmania monostachia has a wide distribution from South and Central Amstrica to the West Indies and Florida where i have seen them growing in the wild in the swamps of south Florida.
Guzmania monostachia can be grown mounted with some medium for it to root into or it can be grown in a pot with an average Bromeliad/Orchid mix. This plant like plenty of moisture during the summer but can be allowed to dry out a little in the winter esspecialy when the weather gets really cold. It needs to be kept above 3 or 4c and does not like full sun.
Here is one large flowering size plant.
Fantastic Guz. Monostachia specimen
Very well received and wonderfully packaged. Dead chuffed with the condition it came in and a brilliant specimen too - can't wait for the flower bract to appear soon... Definitely money well spent!