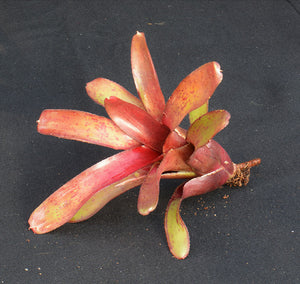 Neoregelia 'Amazon' is a lovely 'mini' or small growing Neoregelia hybrid. It has nice dark red/maroon leaves with dark flecks.
These Neoregelia's are very easy to grow they can be mounted with some moss and bark to root into or they can be grown in a pot. I have added a pot compost and hanger item for you to purchase separately.
Neoregelias can be grown in high light levels, in fact the more bright light you give them the more intense the coloring on the leaves can become. Although you have to be careful because plants can get scorched in full mid summer sun.
Here is one plant, sent bare root. Pot hanger and compost available separately.