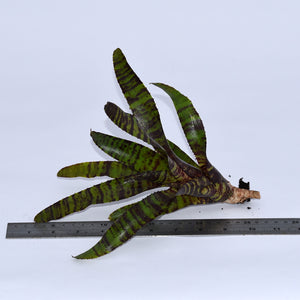 Neoregelia 'Hannibal Lecter' x punctatissima x tigrina. I cannot find any reference to this cross. But what a stunning plant it is. 
I have a few pups for sale. They are not full size and have not reached their full colour yet. They are ready to be potted up and grown into beautiful specimen plants.

Neoregelia's are very easy to grow they can be mounted with some moss and bark to root into or they can be grown in a pot, which i prefer to do as it allows for easy maintenance of the plant. The correct potting medium for most 'tank type' Bromeliads such as Aechmea, Billbergia and Neoregelia is a free draining mix comprising of Peat and potting/orchid bark.

Neoregelias can be grown in high light levels, in fact the more bright light you give them the more intense the coloring on the leaves can become. Although you have to be careful because plants can get scorched in full mid summer sun. Generally more stiff, thick or harder leaved species can take the full sun and softer leaves less so.
Excellent Bromeliads
Plants received and better than expected. Nice healthy plants, well packaged and a good price. Wikl buy again. Thank you
Great air plant and service
Asked Andy for a recommendation for a special birthday present. He was really helpful and created a stunning bespoke mounted plant. The recipent loved it.
Great plants
Plants arrived promptly and look fantastic.
Only reason for 4 stars rather than 5 stars is because I did email a couple of times asking for some care tips but never got a response. As these are rare plants and I am no bromeliad expert I was hoping for some guidance.
Paul