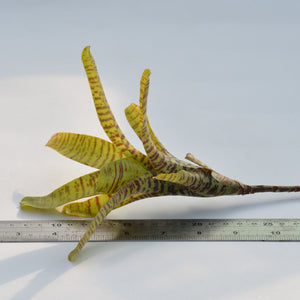 Neoregelia tigrina (possibly ampulacea var. tigrina) is a fantastic mini Neoregelia. It is ideal for mounting or growing in a hanging basket or a pot with peat and potting bark. It is also ideal for terrariums.
It has lovely patterned leaves and white flowers.
Here is one full size offset.
the best
lovely plants first class delivery A*******
These plants are absolutely stunning!, I bought 3 but got many more from Andy with all the off shoots, they have beautiful markings on the underside of the leaves that show through the upperside of the leaves which looks brilliant with their overall yellow/green colour, they are very inspiring plants, same for Neoregelia lilliputiana, which is also marked (mottled), but overall darker, slightly thinner, but just as amazing, the two together are perfect, these are my favourite Neoregelias and I think they are very underated!