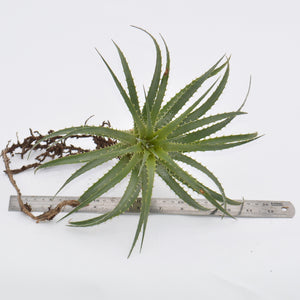 A wonderful terrestrial Bromeliad from Chile. It is a coastal plant that grows in full sun. The foliage is more silver than O. carnea. This plant is much rarer in cultivation than the O. carnea, it is also in my opinion more attractive.

It is very easy to grow, in a pot or out in the garden down to minus one or two centrigrade. For potting i use a peat based mix with added grit or perlite and some slow release fert. A loose, soil based mix can be used if you do not wish to be repotting your plant as often.

This is a large offset, that will be posted with the soil washed from the roots for imediate potting on reciept.