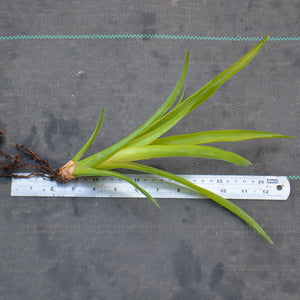 This is a rarely offered and interesting Bromeliad species (closely related to the Billbergia's) endemic to the Atlantic Forest ecoregion of South Eastern Brazil. It can often be found growing in tough conditions clinging to rocks or trees. It has bright red flower spikes with pink flowers.
Easy to grow in a pot or mounted. Here is one small to medium rosette/pup.
Excellence as usual
This must have been the 5thor 6th time I ordered from Andy and he never ceases to disappoint. Plant was in perfect condition and health, well packaged and hopefully will thrive at my home as well as it does with Andy. No other place where I would by my plants from, he is the best period!
perfect
parfait, belles plantes, merci
Great plant
Great plant just as described arrived on time and well packed.Very good service