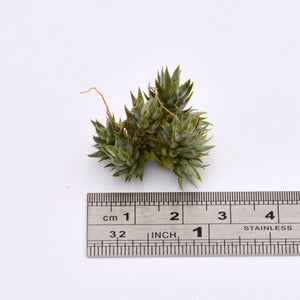 A miniature species. Tillandsia aizoides is in the subgenus Diaphoranthema one of the seven Tillandsia subgenera. This subgroup contains alot of the miniature species such as Tillandsia loliaceae, capillaris, bryoides and the Spanish Moss. All of these species in this subgroup are cleistagamous or self pollinating. These plants are very prolific and will seed around quite often amongst collections.
Tillandsia aizoides is a very cute little plant it has tiny succulent, glaucous leaves. The flowers are a sort of red/brown and very tiny!
Easy to grow with regular wetting and kept in bright light, out of direct sunlight.
I have a few beautiful little clumps of multiple plants available. And single plants.