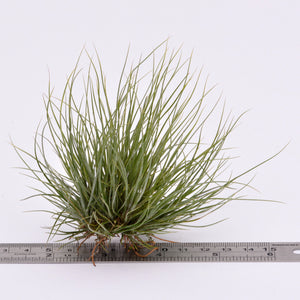 Tillandsia bartramii is named in honor of William Bartram an early naturalist and plant hunter, one of the first people to explore extensively in Florida where he documented and painted many plants and flowers and collected for his fathers Botanic garden.
Native to Florida as well as Guatemala and Mexico Tillandsia bartramii is a very easy species to grow, its vigerous and makes lots of offsets after flowering. It has grass like foliage similar to T. juncea and juncifolia, and produces a red flower spike with purple tubular flowers.
Here are some clumps of seedlings. Lots and lots of plants that can be divided and grown on, or left to eventualy form a large clump.

Great quality of plants
I had some airplants from elsewhere that died very quickly, they were weak and dry before they arrived! I ordered some airplants from Andy. I've had them a few weeks now and they are of really good quality and appear to be thriving. When I want some more, I'll definitely be buying from Andy!
I hope I don't kill it.
Plant arrived well packed and in good condition. I hope I do it justice. My daughter keeps them successfully, thought I'd give it another try, have failed with 2 plants bought from a garden centre.
Lovely healthy plant
This latest air plant from Andy was a good size, very healthy and looks great in my air plant display . It forms part of my 'living pictures' made up of various Tillandsia plants .
A great addition to my collection.
Fabulous service, yet again.
It's the second order I've made from Andy and yet again I'm so pleased with the Bartramii and the other airplants I bought. It's in good condition and is surprisingly big! Quick, friendly and reliable service. Will come to Andy again in the future.
Tillandsia bartramii
As always, the plant arrived perfectly packed. An interesting addition to my collection, it looks similar to a sea urchin. Thank you Andy.