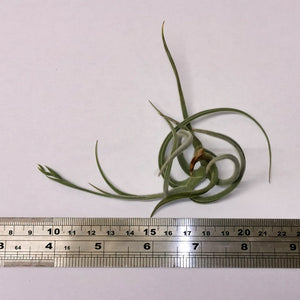 Tillandsia crocata has one of the strongest fragrances of all scented Air Plants. It has lovely soft leaves and a silver appearance due to the millions of trichomes or hairs that cover the leaves. The flowers are bright yellow.
This species likes high light levels and good air-movement.
This variety of crocata has orange flowers instead of the usual yellow. I have single plants available.

Lovely specimen.
Andy supplied a good sized piece of T. Crocata Orange which was beautifully curled around so that it could sit up by itself unsupported. It was also branching out at the growing ends and had a flower spike too. The plant was well packed and labelled and received in excellent condition. A great service from Andy.