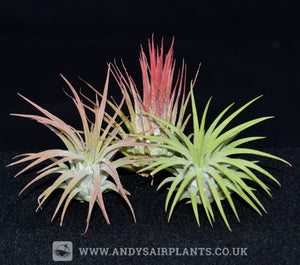 The species Tillandsia ionantha comes from Central America, Mexico, Guatemala, Honduras and Nicaragua. It grows as an epiphyte up in the tree canopies and on scrub bushes. It grows in hot and dry environments and so is well adapted to drought and full sun.
Ionantha is from the Greek 'Ion' meaning purple, and 'Anthos' which means flower. When the Tillandsia ionantha's come into their flowering process they color up really well turning fiery red, and then will produce the lovely purple, tubular flowers, then they will produce pups or offsets around the base which will grow and flower again when they reach maturity which is generally on year.
There are many many sub-species and varieties of Tillandsia ionantha, which makes them very collectible. They are very popular due to their ease of growing, vibrant display and the fact that they are so versatile.
Here is a pack of 3 different Tillandsia Ionantha's.
Beautiful little plants.
Andy's airplants. Reliable, knowledgeable and affordable.
This isn't the first time I have ordered plants from Andy, it won't be the last.
Really good company. Thank you.
Perfect!
First air plants I have ever bought and I love them, so healthy and colourful. Thank you for the extra one - such a nice surprise. I made some pottery to put them in and now I am addicted. I will never buy from anywhere else.
Tillandsia Ionantha 3 pack
Excellent and quick service! plants well packed. Iam truly happy with my new little beautiful air plants and hoping that they love to grow in my living room, will buy some more from Andy.
Beautiful plants
Love these; good quality healthy plants
Excellent Christmas Presents
Being an air plant novice I asked Andy to delay delivery to as close to Christmas as possible, to avoid me killing the plants off beforehand, which he very kindly did. All plants arrived carefully packed and without damage and with excellent care instructions which I copied for each of the recipients. Thank you for your excellent service and plants.