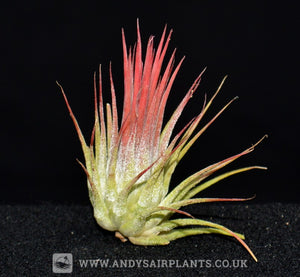 Tillandsia ionantha v. rosea is a variety of the species T. ionantha comes from Central America, Mexico, Guatemala, Honduras and Nicaragua. It grows as an epiphyte up in the tree canopies and on scrub bushes. It grows in hot and dry environments and so is well adapted to drought and full sun.
Ionantha is from the Greek 'Ion' meaning purple, and 'Anthos' which means flower. When the ionantha's come into their flowering process they color up really well turning fiery red, and then will produce the lovely purple, tubular flowers, then they will produce pups or offsets around the base which will grow and flower again when they reach maturity which is generally on year.
There are many many sub-species and varieties of ionantha, which makes them very collectible. They are very popular due to their ease of growing, vibrant display and the fact that they are so versatile.
Here is Tillandsia ionantha v. rosea This variety colors up a lovely Rose color during its flowering cycle.
Beautiful healthy plant
It was my first order from this website and def not the last! Plant was exactly as on photo! Very healthy, beautiful and just amazing. Was delivered very fast and with such a good package! Loved it a lot! I would really recommend buying plants from this shop! Can't recommend it more!!!!
Lovely healthy plant
Well packaged, arrived quickly and bigger than expected.
Very pleased, thank you.
Rosea Review
Hi Andy,
Unfortunately the Ionantha v Rosea fell apart after a week but the other plants were fine and are looking good,
I also like the care you take in packaging, all the plants I have had in the past from you have been great.
Richard Cook.
Love them
We are starting abit of a collection now and love finding new ways to display them
Adorable
What a cute plant, arrived in blazing colours which I had not seen before.