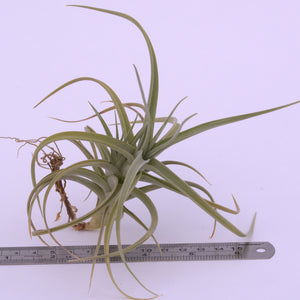 Tillandsia 'Kashkin' is most likely a naturaly occouring hybrid collected by Michael Kashkin in the 1980's in Bolivia. This plant used to be called T. 'Inca Gold'
It is a very saught after plant that is similar to T. jucunda but has flowers that start of yellow and fade translusent. The flowers are exquisitely and uniquely scented.
These are nice large flowering size plants.

Money never wasted
As expected, a good strong and well sized airplant. Looking forward to this one flowering.
Tillandsia 'Kashkin'
Great sized plant with multiple pups
Lovely plant
Arrived in perfect condition and is a good size with a couple of pups. It's a very nice addition to my collection. Thank you Andrew for another great plant!
Beautiful plant!
A big size beautiful plant with a couple of pups, very happy with it! Thank you Andrew.
Pretty, healthy plant
A good-sized plant with pretty pale leaves, in very perfect condition as usual.