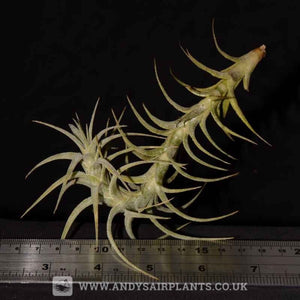 Tillandsia latifolia grows terrestrially, saxicolously (on rocks) and as an epiphyte in Peru and Ecuador.
This species is commonly found growing in sand dunes in coastal Peru where it can from dense stands. The plant has light green leaves with a fine dusting of trichomes, the flower spike is red and produces small pink flowers.
Tillandsia latifolia
This is my second time ordering plants from Andy and the care he provides his plants is obvious! All the plants arrived in great condition (and labelled) and he included care information + a personal message. I am certain I will be ordering in the future - can't recommend enough!
Tillandsia latifolia
It arrived quickly and with great packaging. The plant is super healthy and a care sheet was included!
Tillandsia latifolia
A plant with neat form and great deep purple blush colouration