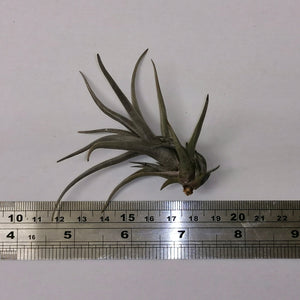 Tillandsia 'Mystic Burgundy' is hybrid between Tillandsia muhriae and T. albertiana. It is one of about a dozen hybrids created by Mark Dimmit Tucson Arizona, between 1982 to 1985 using albertiana as one of the parents.
'Mystic Burgundy is a wonderful little plant, it has nice purple leaves and produces one to three long lasting Burgundy flowers.
I have lots of nice flowering size plants with pups.
andys great plants
frist class service ,fantastic plants very good deal i was given a free one Both are great plants one in flower beautiful .thank you so much
Tillandsia 'Mystic Burgundy'
Arrived quickly, well packed and in good condition and also with a free plant - thank you!
Very pleased with the packing and quality of the plants Nice to get message about re ordering Did you not get my reply about T capitata Domingensis Robin
First order from Andy but with plants of this quality i will be happy to order again.
Tillandsia 'Mystic Burgundy'
A really interesting plant with clear banding and a deep purple colour