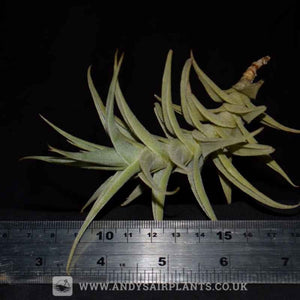 Tillandsia purpurea grows terrestrially in the coastal deserts of Peru along with species like T. latifolia and T. paleaceae, in these conditions the plants survive for much of the year on coastal fog.
Purpurea is a beautiful species with soft, delicate, silvery, light green leaves. It produces lovely highly scented flowers that are purple and creamy white inside, similar to T. straminea.
This species is easy to grow in high light levels with quick drying times or very good air-movement.
On offer are flowering size plants.
Always healthy plants
As expected, this plant was in tip-top condition (as are all plants from Andy)...and a much appreciated freebe as well!
Tillandsia Purpurea
Another lovely plant from Andy! I'm never disappointed with any purchase from Andy's Air Plants, they arrive well packed and always in superb condition. Thank you
Lovely plants
The very healthy plants arrived quickly, were well packaged, and came with an excellent care guide. Thank you!
Anticipation
A beautiful silvery leafed plant well worth including in anyone's collection excellent quality as always from Andy, looking very much forward to its flowering and hoping to getting my plants outside this bank holiday weekend after the cool start to the year
Tillandsia purpurea
Beautiful plant in excellent health. Couldn't be happier with the quality of this plant.