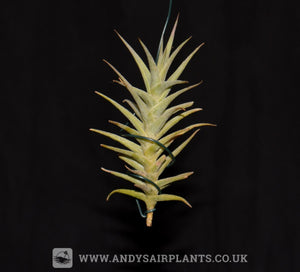 Tillandsia purpurea grows terrestrially in the coastal deserts of Peru along with species like T. latifolia and T. paleaceae, in these conditions the plants survive for much of the year on coastal fog.
Purpurea is a beautiful species with soft, delicate, silvery, light green leaves. It produces lovely highly scented flowers that are purple and creamy white inside, similar to T. straminea.
This species is easy to grow in high light levels with quick drying times or very good air-movement.
This is a named cultivar of the quite variable species purpurea. It has tightly stacked or whorled leaves that when viewed from above have a star like shape.
Another good un
Andy keeps coming up trumps.A lovely small purpurea "shooting star"hard to get hold of as well.Nice plant well packaged with others and prompt delivery.
Looking forward to next years plants.
Usual high quality
Lovely little Tillandsia with darker colouring than many Tillandsias in my collection. Arrived healthy and well protected...can't wait for it to flower!
First class as always
Another beautiful plant from Andy, healthy and carefully packed as always. Communication fantastic and he even included a free plant as the order took a couple of days extra to process. I really can't praise Andy enough and love every plant I've had from him.
Tillandsia purpurea 'Shooting Star
lovely perfectly formed plant which was clearly well hydrated with no dry tips,only had it 2 weeks and already got pups testament to how it was grown in the first place..overall a very healthy nice looking plant
Shooting star
Good quality plants, dispatched very quickly, great service. Will buy again.