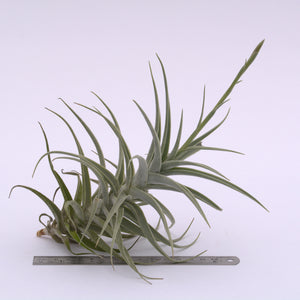 Tillandsia purpurea grows terrestrially in the coastal deserts of Peru along with species like T. latifolia and T. paleaceae, in these conditions the plants survive for much of the year on coastal fog.
Purpurea is a beautiful species with soft, delicate, silvery, light green leaves. It produces lovely highly scented flowers that are purple and creamy white inside, similar to T. straminea.
This species is easy to grow in high light levels with quick drying times or very good air-movement.
On offer are large plants with a flower spike. These are beautiful specimens that will flower for a long while and make lots of big pups for you to grow on.
Wonderful Airplants
Ordered a large Airplant and it arrived quickly, extremely well packed and totally undamaged in shipping. As an added bonus i also received a mini airplant which was a lovely surprise. Guide on airplant care was also much appreciated. Trust with confidence!
Why chance buying anywhere else - product and service consistently excellent!
As usual - plants as described -always excellent condition