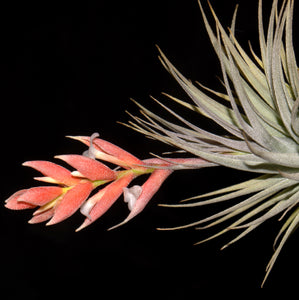 This is an incredibly beautiful species from Brazil. It is one of my all time favorites. It is very easy to grow, has lovely silver leaves that are swept back/recurved. The flower spike is stunning it is bright orange with a dusting of trichomes towards the tips of the bright orange bracts which looks amazing, it then produces white flowers to top it off.
I allways have lots and of this species in stock.
Another good buy from Andy
Really nice plant from Andy...always packaged well and prompt.Will be spending more.....
Lovely plant
Strong, healthy plant as expected. This Tillandsia is like a frozen wave: curved upwards and quite tightly packed, covered with silvery trichomes that look like spume. I've attached it to a small piece of bark so that it is vertical...looks wonderful.
Quality, as usual
I already have a specimen of T. recurvifolia leonamiana bought from Andy and decided to add the subsecundifolia to my collection. As usual the service was excellent and the plant arrived, along with T. caerulea var. major, in perfect condition and nice and healthy. The T caerulea var. major also has a flower spike on it and is budding.
Since I began collecting and keeping Tillandsia I do not go past Andy when buying. The quality of plants and service is excellent and the plants are always packed so well for their 745 mile journey to reach me.
My new airplant
I am very pleased with my recent purchase from you Andy😀 The air plant arrived in perfect condition and seems to be thriving in my bathroom. Thank you😀
It arrived quickly and was well packaged! I will definitely be ordering from you again and will certainly recommend to anybody who is looking to buy an air plant😀
Tillandsia Recurvifolia var. subsecundifolia
Plant arrived quickly and very well packed. The quality of this air plant was superb, it was in early flower and with a pup! I cannot stress enough the quality of Andy's plants, I have purchased from other Tillandsia specialists, but every time Andy beats them on quality and service.