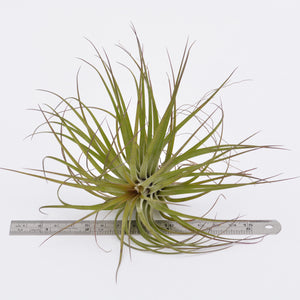 Tillandsia stricta is a common species in Eastern South America, from Venezuela to Northern Argentina where it grows as an epiphyte in dry to mesic (evenly moist) conditions. It has green, often grey/purple mottled leaves and a lovely flower spike with bright pink bracts and light purple flowers. It is popular amongst beginners for its ease of cultivation, and attractive flower spikes, it produces many pups (off-sets) and quickly grows in to an attractive clump.
This species likes medium to high light levels and regular misting with good air-movement.
These plants are slightly redder than the normal T. stricta, and the more light you give them the more color you will get esspecialy around bloom time.
Nice big flowering size plants available.