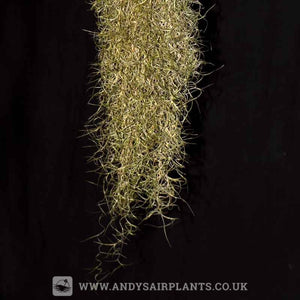 Spanish Moss or Tillandsia usneoides is the most widespread member of the Bromeliad family.
It has a widespread natural distribution from Central and South America and the Southern States of North America. It is a fascinating plant that grows with no roots, each new plant growing from the leaf axial of another, thus producing long, hanging clumps. It also flowers, producing numerous very small, scented green or yellow flowers.
Fun and easy to grow and very versatile for Art and flower arranging. Just hang it up somewhere with good air-movement and soak with water by spraying or dunking once or twice a week and allow to dry.
This is very fine form of 'Spanish Moss'.
My beautiful air plants.
These air plants from Andy are gorgeous, healthy and beautiful.
They are sent well wrapped in tissue and in a box with plenty of room for them.
I am going to order more once the new piece of driftwood I have dries out and is cleaned up properly.
I would definitely recommend buying airplants from Andy. I'll be buying more Spanish moss too. Stunning!
Thank you Andy.
Tillandsia usneoides ' Fine Form'
Full marks : quality plant, well wrapped and delivered quickly.
Spanish moss
Arrived in perfect condition like every plant I've ever had from Andy.
Lovely addition to the collection. Thanks Andy 😉
Air plant beginner
Excellent packing and delivery, lovely plants all doing great. Very happy with all the information you gave as well, will definitely order again many thanks.
Very happy to buy from Andy's Air Plants