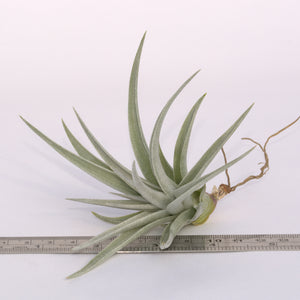 A fantastic hybrid between two great species, ixioides and recurvifolia. It can grow larger than both parents It has nice silver leaves in a star shape and produces nice pink flower spikes with bright yellow flowers.
It is a very easy and tollerant plant to grow. Enjoying bright light and regular wetting and drying.
Quite rare and not often seen for sale. I have some nice large plants available for sale.
What a stunner Part 2!
Further to my previous review the bloom spike has now opened its first couple of flowers and it really is a stunner. The scaled flower bud bract is a gentle powder pink from which the pale primrose flowers emerge. This perfectly complements the soft silvery surface of the bold pointed sword-like leaves. The only thing missing is a sweet scent! The yellow flowers are certainly reminscent of those of T. ixiodes which is one of its parents. I'm even more pleased now that I have this stunning hybrid in my collection.
What a stunner!
This was the star plant in my plant parcel: beautiful soft silvery grey downy texture all over, distinct and bold rosette of hard wide pointed leaves and the bonus of a flower bud appearing from its centre. I love its strong shape that shouts out "Here I am" and the beautiful overall colour tops it off; a real stunner that I will cherish. Well packed and labelled as always.
A beautiful healthy plant!
My Tillandsia 'White Star' came very well wrapped and in excellent condition, a beautiful and pristine plant and a good size too. Always great service and top quality plants in top condition. I can highly recommend Andy's Air Plants. I also received a beautiful little surprise with my order - Tillandsia capillaris v. virescens! A lovely addition to my collection! Thank you so much!
My plants
Great plants great servive
Very very happy with this lovely Tillandsia
Tillandsia "White Star" arrived a few weeks ago and is already producing a flower spike. Excellent healthy plant, thank you so much!