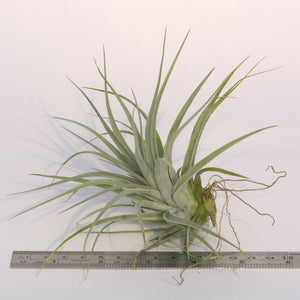 Tillandsia 'Red Princess' is a hybrid between species stricta and recurvifolia, this same cross has also produced 'Cotton Candy', they are fantastic hybrid Tillandsias.
I have some lovely flowering size plants available.
Good strong plant
Andy provided a good sized healthy head of this hybrid that came from the same cross of the well-lauded Cotton Candy. From my reading I am expecting a stronger leaning towards red rather than the vibrant pink of Cotton Candy. The foliage has the simliar silver grey of Cotton Candy and the same flax-like texture and hopefully will be a "Wow" when she blooms. Well packed and labelled as always from Andy's nursery.