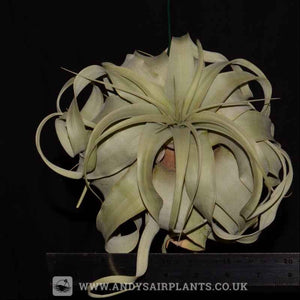 Tillandsia xerographica is an epiphytic species from Southern Mexico to Guatemala and El Salvador.
It grows in hot dry deserts and endures harsh droughts and high temperatures. These plants can survive these long drought periods by utilising small amounts of evaporating dew.
Tillandsia xerographica is a very famous species amongst collectors, it has wonderful wide wavy leaves of a lovely silver colour, the plant can grow very large and produces a large and very long lasting flower spike with bracts of orange, red and green with purple flowers.
It is easy to grow providing water does not sit in the leaf bases. To avoid this plants can be mounted or hung on their side. Perfect for a hot conservatory in full sun but away from glass so as not to scorch the leaves. And given an occasional light misting.
Nice...
A nice example of a seemingly increasingly difficult plant to obtain. I think this is reflected in the price which is what you must pay if this is a must have plant for you!
Amazing
The best plant! We want more please! Beautifully grown.
Two plants for the price of one.
I ordered the medium sized xerographica as part of a bundle of other plants. When it arrived I saw that it was two conjoined medium sized plants - excellent - I separated them and they look great as part of my collection. All of the other plants are lovely and healthy too. I also received a free bonus plant with my order. Excellent quality and service.
Excellent plant condition and service!
Have placed three orders with Andy over the last two months - excellent plant condition and service every time.
Recieved in wonderful condition and the size is very impressive (I bought 'X Large' size), Tillandsia xerographica is one amazing species, i'm very pleased to say the least!